DocSpera Features
Just some of our features...
Surgical Scheduling
Real-time access to surgical schedule and pre & post-op information learn more
Secure Communication
HIPAA compliant communication with your care team members
Case Image & Videos
Easily share case files, images, DICOMs, PDFs, MS Office documents and videos
Security
2,048 bit secure access to our encrypted double firewall platform
DocSpera is Created by Doctors, for Doctors
Securely & collaboratively communicate with your care teams: other Physicians, NPs, RNs, PA and Industry Professionals.
HIPAA compliant secure scheduling and messaging network of verified physicians, and other medical professionals.
DocSpera - Built for doctors by doctors! The HIPAA compliant platform for physicians and healthcare professionals allows you to securely communicate with other colleagues, collaborate and learn about new medical breakthroughs, and become more efficient in managing your day.
Become a member of the exclusive DocSpera medical network today.
Designed for you from your desktop browser, iPad, iPhone or Android.
Even More Features
HIPAA compliant platform.
Secure and safe PHYSICIAN VERIFIED platform.
Suite of efficiency tools to improve physician and industry communication, with eeal-time access to surgican schedules and pre-op information.
Access your PACs system from anywhere.
Mobile centric physician-to-physician communication tools to stay connected while on the go.
Functional private networks and efficient workflows to quickly complete your work while you're on the go.
Share and stay on top of relevant medical breakthroughs and products within your field.
Tailored for procedural based practitioners and real doctors.
Highly efficient and intuitive interface, designed for your new iPhone, iPad and Android phones.
Supports full view rotations from landscape to portrait, making efficient use of your onscreen real-estate.
DocSpera iPhone & Android App
Mobile Surgical Scheduling
Integrated secure, efficient, and collaborative scheduling with your care team & reps for coordinate planning
Live Messaging
Easy sharing of case files and collaborating on sugical cases, all in a familiar secure text message style format
Access to Case Files
View and upload of image, x-ray, video and DICOM files with simple sharing options and annotation tools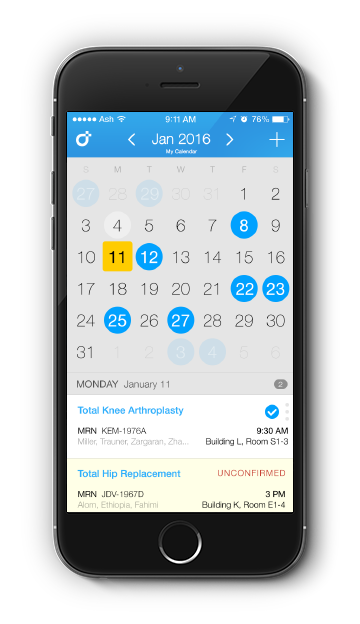 View DICOMs
Easy to use DICOM viewer, accessible through Cabinet, Live Messages or Scheduling on mobile & web
High-Resolution Photos
Access to hi-definition digital x-ray images, to be able to zoom in to see finer details and annotate case notes
Video & Image Sharing
Medical video sharing has never been easier! Attach videos to your Messages and Surgical Schedules
Learn more about the DocSpera iPhone app
DocSpera Testimonials
the best under-recognized app on the market for helping to keep busy docs organized
~Orthopedic Surgeon
I do a fair bit of team coverage for athletic teams. Connecting w. the athletic trainers is a breeze, they love the real-time interaction and HIPAA compliance as well... Best under-recognized app on the market to keep busy docs organized. A true hidden gem
~Surgeon, Johnstown PA
the extremely user-friendly mobile app offers remarkable flexibility and provides seamless HIPAA compliant communication between the surgical team and industry reps, ensuring no preoperative planning or scheduling detail goes unrecognized
~Orthopedic Surgeon, Arlington TX
the applicability, the simplicity, the ease of use and real-time updates to my care team, all while being HIPAA compliant is phenomenal!
~Physician, iPhone App Store
overall, DocSpera is a great solution for practices or providers looking to collaborate and share information about patients and cases
~TopOrthoApps.com
this product has improved schedule coordination between my office and hospital staff immensely
~Physician, Batesville AK
Brought to you from Silicon Valley
DocSpera's innovative core team comprises of professionals with backgrounds in healthcare, technology and security. Our team have come from leading companies including Yahoo!, Microsoft, Cisco, Esri, GE, Intuit, ING Bank, and Eli Lilly to name a few.
---
238725231
Live Interactions Since 2014
Real-time interactions include: Secure messages sent, cases uploaded and scheduled events created by Physicians & Healthcare professionals.
---
DocSpera Partners
DocSpera works with leading solution providers and organizations in the industry...
Physician Advisory Council
DocSpera's Board of Medical Advisors is composed by outstanding professionals who have achieved major advances in medicine and academia, as well as those who have demonstrated strong commitments and leadership in their respective fields.
Dr Jonathan Schaffer

Cleveland Clinic

Dr Christopher Donaldson

Western PA Orthopedics

Dr Orrin Franko

University of California

Dr Mark Scioli

Center For Orthopedic Surgery

Dr Shane Seroyer

TMI Sports Medicine

Dr Anthony Petrosini

Orthopaedic Institute of Central Jersey
How would you like to register?
HIPAA Compliant
Encrypted, secure HIPAA compliant web & mobile platform
Surgical Scheduling
Integrated scheduling platform coordinated across you careteam
Access from Anywhere
Instantly consult with your colleagues: share images, videos and cases
Seamless Coordination
Coordinate across your organization with all members of the team
Improve Productivity
Easily communicate while on the go and free up time to spend with your patients
Real-time Access to Physicians
Reach doctors with urgent needs through notifications
Improve Surgeon Support
Better access and improved responsiveness.
Become More Productive
One platform to coordinate with both physicians and your team
Improve Planning
Embedded surgical scheduling for improved planning